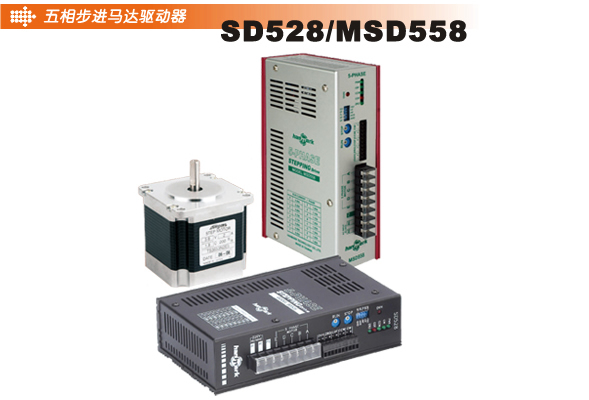 HANMARK is a guarantee of quality!
Key Features
Taiwan-based reliable manufacturers of 5 phase stepper motor driver.
1.AC85~265V Power Input, suitable for high-speed high torque applications.
2.Can select from 16 driving current adjustments, reaching highest reading of 2.8A per phase.
3.Excitation mode can be selected from Full-Step (0.72degree/step) or Half-step (0.36degree/step).
4.Provide two methods of Pulse Input: Single-Pulse (1P), and Two-Pulse (2P).
5.Can adjust running current and stop current for optimal motor revolving performance.
6.Overheating Protection and Output, can be used with external control.
7.Automatic Current-Down function for reduced motor heat.
8.Step zero output, and Motor Current Off (COF) functions, can be used for external control.
9.Self-Testing Function.
10.High speed CPLD component design, enhances stability of product.
11.Drive Current using Soft-up method to prevent sudden burn-out of driver.
12.LED displays revolving status.
13.Input and output both use Photo.
14.Coupler to provide noise isolation.
Specifications:
1.Power:AC85V ~ 265V, 50/60Hz
2.Current:1.0A ~ 2.8A(16Multi-step current control)
3.Driving method:Constant current bridge driver
4.Resolution:Full step (0.72°/s , 500s/r), half step (0.36°/s , 1000s/r)
5.Control mode:Single-pulse(1P), two-pulse(2P)
6.Auto-current-down:30~70%(16 Multi-scale current control)
7.Max pulse speed:80KHz
8.Pulse width:5us(Min)
9.Direction response:10us(Min)
10.Input signal:+4 ~ +10V, <20mA
11.Input signal impedance:220Ω
12.Output signal:Open collector, 24V, 10mA(Max)
13.Noise isolation:Use of photo coupler
14.Connection method:Removable connector
15.Ambient temperature:0 ~ +40℃
16.Ambient moisture:<85%RH
17.Dimension(mm):207(L) x 109(W) x 69(H)
18.Weight:1020g

Download

Reader