Products
Contact us
Address:Dongguan city Dalang town
Huang Caolang Road No. 158 Building 2 Fujin
Contact:
Tel:0769-83123825
Fax:0769-81119915
E-mail:tsengtewentw@163.com
Website:www.hanmarkcn.com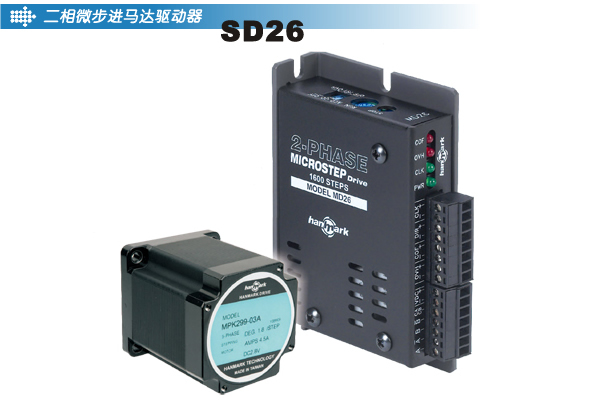 HANMARK is guarantee to quality!
Key Features
1.Low vibration, high resolution, 1600 steps per loop(each step at 0.225°).
2.DC15~40V Power Input.
3.Can choose from 16 driving current adjustments.
4.Automatic-Current-Down (ACD) function for reduced motor heat.
5.Overheating protection and Signal Output function.
6.Motor Current Off (COF) function can be accomplished externally.
7.Removable connector for easy connection.
8.High speed Photo Coupler to increase Input pulse frequency.
9.Self-testing function.
Specifications:
•Power:DC 15V ~ 40V @2A
•Drive current:0.3A ~ 1.0A
•Resolution:0.225°/S, 1600s/r
•Control mode:Single-pulse(1P), two-pulse(2P)
•Auto-current-down:20~65%
•Max pulse speed:60KHz
•Pulse width:5us(Min)
•Direction response:20us(Min)
•Input signal:+4 ~ +10V, <20mA
•Input signal impedance:220 ohm
•Output signal:Open collector, 24V, 10mA(Max)
•Noise isolation:Use of photo coupler
•Connection method:Removable connector ambient
•Ambient temperature:0~+40℃
•Ambient moisture:<85%RH
•Dimension(mm):100(L) x 62(W) x 22(H)
•Weight:160g
Download

Reader
Home | About us | Products | News | Technology | Fedback | Contact us 
Keys:Two-phase stepper drive, five phase stepper drive, DC brush horse, AC induction motor brake, wheel vibration frequency conversion controller, speed AC motor controller
Address:Dongguan city Dalang town Huang Caolang Road No. 158 Building 2 Fujin Zip code:523000 Contact:--15820881397,13712838878 Tel:0769-83123825 Fax:0769-81119915
Copyright © 2008-2015 Dongguan Hmark Technology Co., Ltd 粤ICP备12051467号 Design:Dongguan web design